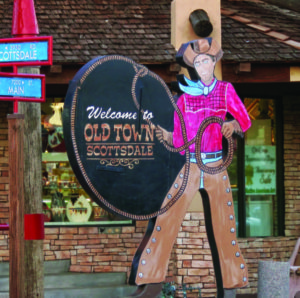 Featuring three Chicago Cubs Spring Training Games, this 6-Day tour will include several day trips including; sightseeing in Phoenix, a full day trip to Tucson, and a Dolly Steamboat Cruise! Did we mention THREE Cubs Spring Training Games?
This Cubs Spring Training Experience Includes:

Round trip airport transfers
Spend 5 nights in Phoenix, Arizona, the heart of MLB's Cactus League
See 3 Spring Training baseball games from reserved seats featuring your Chicago Cubs
Free time to visit historic Old Town Scottsdale
Enjoy dinner with drinks at Rustler's Rooster Steakhouse
Narrated sightseeing tour of Phoenix with a local guide
Leisurely cruise on Canyon Lake aboard the Dolly Steamboat
Full day trip to Tucson including drive through Saguaro National Park
Visit the Pima Air & Space Museum featuring nearly 300 aircraft and home to the Arizona Aviation Hall of Fame
$30 in Mayflower Money
Itinerary at a glance
Departure Date: March 14, 2021
6 Days, 8 Meals: 5 Breakfasts, 3 Dinners
HOTEL ACCOMMODATIONS: DoubleTree Hotel, Phoenix, Arizona
Per Person Twin Room: $2,469
Single Room: add $1,109
Book by November 30th, 2020 and receive 2 for 1 airfare from Chicago! $675 $338 per person.
Starting on December 1st, 2020 please call for the current air promotion details.
IMPORTANT CONDITIONS: Air itineraries may not be available until documents are received. Air seats are assigned by the airline for the entire group. Seat changes can only be attempted upon receipt of tickets and documents at which time availability may be limited. If specific seat assignments are vital to your reservation, we recommend individual air reservations rather than booking air with the group.
Exclusions: Mayflower Cruises & Tours reserves the right to alter its refund and cancellation policy when a substantial amount of cancellation or postponement of travel is attributable to: conditions resulting from an act of God, natural or man-made disaster, fire, government action, civil disorder, war, hostilities between nations, or unavailability of transportation through no fault of Mayflower Cruises & Tours.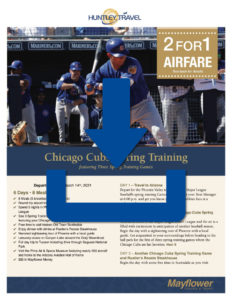 Full Daily Itinerary and Additional Details about the tour may be downloaded in PDF format here (or click image at right).
For Reservations or To learn more about this fantastic experience and to book your trip with Huntley Travel, contact Bernice Bakley at (847)669-8900, bernice@huntleytravel.com or Contact Us to speak with any of our other experienced advisors at Huntley Travel today!